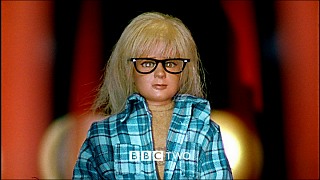 Following on from their successful I Love The 70s and I Love The 80s series, in 2001 BBC TWO screened a brand new series, predictably called I Love The 90s. Promotional trails for the first three programmes featured a studio standard reproduction Joe 90 puppet in a kind of "Next Generation" updated version of the laboratory set, including a fully working Rat Trap. As the trails had a 16:9 aspect ratio, the Rat Trap was modified to better suit the widescreen image.
Joe goes into the Rat Trap to receive the brain patterns of a 1990s personality. The sequence imitates the opening titles of the show, but then the classic theme is drowned out by music appropriate to the character Joe is "becoming". The Rat Trap stops and Joe emerges with the persona, clothes & voice of either Oasis star Liam Gallagher, comedian Vic Reeves, or Garth from Wayne's World.
The three trails appeared as special features on the Joe 90 DVD box set (disc 5, also available individually), but it should be noted that these do not feature the finished soundtrack as transmitted; Joe's opening voiceover is the 1990 "generic" version on all three, many sound effects are missing, and the voiceover "tag" and BBC TWO captions are absent. The transmitted versions can be seen here on BIG RAT though by clicking on the buttons below.
---