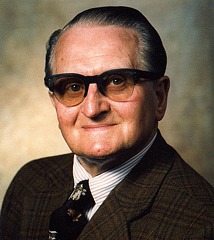 The wonderful music for Joe 90 was by Barry Gray, who had already composed the themes and incidental music to Gerry Anderson's previous series from Four Feather Falls to Captain Scarlet and The Mysterons, and the feature film Thunderbirds Are Go. He would go on to provide the music for the series The Secret Service, UFO and Space:1999 (Year I), and the feature films Thunderbird 6 (recorded between Joe 90 sessions) and Doppelgänger (released in the US as Journey To The Far Side Of The Sun)
The world lost this hugely talented man more than a quarter of a century ago on April 26th 1984, but his music lives on. Only a few of his original music scores have ever been released commercially, but Fanderson has started to put this right by releasing CDs of his music from Supercar & Fireball XL5, Stingray, The Secret Service, UFO and Space:1999. These are only available to club members, although they do occasionally turn up on internet auction sites such as eBay - often at vastly inflated prices, and even more often as pirated CD-R copies. If you see a CD with the words A Limited Archival Release on the cover, beware!!
Silva Screen have also begun releasing a series of Barry Gray CDs, and started with Thunderbirds on February 24th 2003. They released a 28 track CD of music from Joe 90 on May 15th 2006.
To hear an MP3 audio file of the closing title music from Joe 90,
click the icon on the left for a pop-up window.
This audio file is approximately 300KB.
---