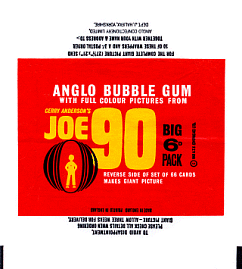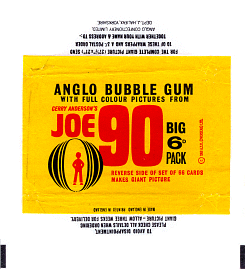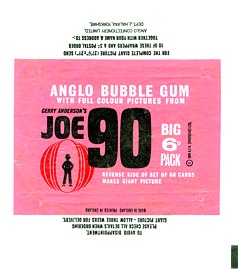 ANGLO BUBBLE GUM
© 1968 A.T.V. (OVERSEAS) LTD.
As with Captain Scarlet and The Mysterons, Anglo Confectionary Ltd. produced bubble gum to tie in with the Joe 90 series, and each pack came with a collector card. There were several different versions of the wrapper - three are illustrated above.
The complete set was comprised of 66 cards, each one 3½" x 2½" (89mm x 63mm), and were a mixture of photographs and artwork. The backs of the cards made up a huge artwork poster, painted by TV Century 21 stalwart Ron Embleton.
A complete giant picture (27½" x 21") was available by sending ten of these wrappers and a 3'- postal order to Anglo.
Made and printed in England
---